When throwing a full-fledged party is not in the time and money budget, a quick bite with friends after shopping or while pre-gaming the company party might be just the ticket to warm the heart and ease the busy stress of the season. It's the best of both worlds, the fun without the cooking, cleaning and busyness of hosting.
Whether you've got time for just a taste or are dedicating an entire night to exploring different takes on The Old Fashioned, we've found some of the best restaurants in Decatur. Pick and choose from our DIY Decatur Cocktail Crawl: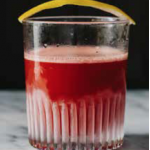 Kimball House
Kickstart the night in the old train depot, Kimball House. With a toast to early Atlanta hospitality, this modern Decatur version of the iconic Atlanta hotel serves up food and drink with old-school glamour and personality that matches its dark and stately scene. The decadence of oysters and caviar from the best raw bar in town is a classic choice we're not going to talk you out of.
Beverage: Sazerac Sour – Rye, Peychaud's bitters, lemon, Herb Saint, Sazerac syrup
Bite: Oysters – Hatteras Salts, Cape Hatteras, NC, corn pudding and sandalwood. Caviar – UGA Premium Sturgeon Caviar, Georgia, semi-firm, boquerones
Details: 303 East Howard Avenue, Decatur,
404.378.3502, Kimball-house.com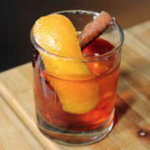 Revival Decatur
Make your way to Church street where you'll hear the song "Over the River and Through the Wood" play in your head as you are welcomed to the family at Revival. This is as close to grandmother's house as you get in Decatur. Restored to resemble the original home in look and feel, sink into Southern-style comforts served up with foodie-approved flavors. You're sure to taste the heart of gatherings this cuisine and space have been supporting for years.
Beverage: Toasted Old Fashioned with bourbon, bitters, burnt sugar, brûléed cinnamon, flamed orange
Bite: Butternut Squash Soup with marshmallow, bacon, chili flakes
Details: 129 Church Street, Decatur,
470.225.6770, revivaldecatur.com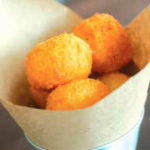 Cakes & Ale
Just down the street, Cakes & Ale delivers a city vibe. Here you'll find the chatter and bustle of a restaurant well-enjoyed with a cozy ambiance up to the task of delivering a romantic evening. Creativity sets the tone for the menu while quality serves as a strong foundation. It's no coincidence our featured cocktail is called "The Road Less Traveled." No matter which path you pick here, you're destined for delightful and delicious.
Beverage: The Road Less Traveled – rye whiskey, bruto americano and bonal.
Bite: Arancini – risotto balls with pecorino fresco in the center, citrus and fennel pollen.
Details: 155 Sycamore Street, Decatur
404.377.7994, cakesandalerestaurant.com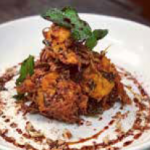 Leon's Full Service
Back to the iconic Ponce thoroughfare, this destination spot for the hippest of crowds pays homage to the vintage full service gas stations of yesteryear. Leon's owns that same breed of gracious service, using it in this venue to fill a different tank with an innovative menu, including seasonal cocktails that become the talk of the town when they debut. You won't want the right to remain silent after enjoying Lawless Drinker; it's a buzz-worthy hit.
Beverage: Lawless Drinker – rye, manzanilla, cranberry grenadine, lemon, fernet, leopold bitters, spice
Bite: Sweet potato + kale fritters, paprika molasses glaze, roasted pecans, crispy sage
Details: 131 E Ponce de Leon Avenue, Decatur
404.687.0500, leonsfullservice.com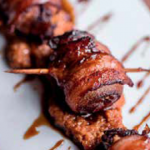 The Iberian Pig
The heart of Decatur Square is also its top destination for tapas. Treat your taste buds to a signature take on two classics to recall how exceptional quality stands the test of time. And it's only fitting that here we find the first bacon dish of the evening.
Beverage: Iberian Old Fashioned
Bite: Bacon-wrapped Dates – Applewood bacon wrapped Medjool dates, Manchego cheese, walnuts, Romesco sauce
Details: 121 Sycamore Street, Decatur
404.371.8800, theiberianpigatl.com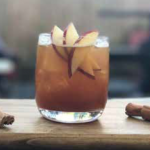 no. 246
Say hello to limoncello and the Pimms Cup as you stop next door at no. 246. Casually upscale, the fare features an old-country Italian approach to locally-sourced options. Farm-fresh ingredients meet a simple wood-fire technique. Make magic of the evening with a chilly game of ping pong or cozy up next to a window on Ponce to watch the city lights dance with activity.
Beverage: Pimms Cup for the Fall – pimms, cynar, limoncello, apple, cinnamon
Bite: no. 246 Meatball – veal, pork, beef, ricotta, herbs on a bed of spicy tomato sauce
Details: 129 E Ponce de Leon Avenue, Decatur,
678.399.8246, no246.com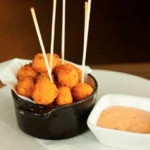 The Pinewood
High-class and home-spun converge down the street at the neighborhood hangout, The Pinewood. Whether it's the lively bar or glam cocktail lounge experience, the 2017 revamped, expanded space has spirit and mood to spare. House-made syrups and infusions turn top-shelf spirits into magnificent mixes. The menu features a twist on Southern fare using locally-sourced ingredients, does it get more "comfort" than grits in tot form?
Beverage: Roots Radical – Wild Turkey Rye, beet syrup, lime juice, Luxardo maraschino liqueur, Angostura bitters
Bite: Grit Tots – Logan Turnpike Mill grist, American cheese, Panko breading, sweet chili aioli
Details: 254 W Ponce de Leon Avenue, Decatur,
404.373.5507, pinewoodtr.com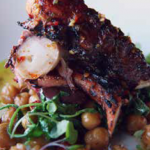 Wahoo!
Worth crossing the tracks for, Wahoo! has a new chef on board and a fitting revamp of the menu. Staying true to its European eclectic roots, fresh seafood is still a bragging point for this neighborhood bistro. There's a cozy, down-to-earth feel along its wall of windows that makes house-spiced, over proof rum and grilled octopus a must-have favorite.
Beverage: Chester Copperpot – house-spiced over proof rum, fresh-squeezed mandarin orange juice, lime and demerara syrup
Bite: Grilled Spanish Octopus – chickpeas, kalamata olives, sun-dried tomato arugula, roasted red pepper-tomato oil
Details: 1042 West College, Decatur
404.373.3331, wahoogrilldecatur.com
OAK Brewpub
A newcomer to the scene, OAK Brewpub easily moved its way into the hearts of Oakhurst-ians and beyond. A regularly-changing beer menu and small, shareable plates served from an open air kitchen are the recipe for success here. Patio games and a big screen keep the pub vibe fresh, but one bite of the spicy General Tso's Broccoli and you question how fun and innovation can play so well together.
Beverage: High Rye Robbery – Redemption High Rye Bourbon, tempus fugit cacao, aperol, velvet falernum
Bite: General Tso's Broccoli – Sambal, fish sauce, shoya, rice wine vinegar, crispy chili d'arbol
Details: 630 East Lake, Decatur
470.305.7527, oakbrewpub.com
Scout
Playing to the Mayberry side of Decatur's meeting of Mayberry and Berkeley, Scout takes advantage of a historic setting in the old Scottish Rite space to deliver up a piece of Americana with every bite and sip. Sitting in prime Oakhurst Village, its killer patio is lit with night lights and laughter to deliver on its promise of "always a darn good time." Named for the scouting program, Scout aspires to a curious passion for nature, togetherness and altruism. The Oaxacan Gent is the final and fitting cheer in this cocktail crawl.
Beverage: Oaxacan Gent – peloton de la muerte mezcal, lemon, peppercorn, sugar, spiced berry cordial, burnt cinnamon
Bite: Avocado Deviled Eggs – chili lime crab
Details: 321 West Hill Street, Decatur
404.496.6863, scoutoakhurst.com
by Mel Selcho
Selcho, M. (2018, January). DIY HOLIDAY COCKTAIL CRAWL. Retrieved from http://decaturliving.com/foodanddrink/