Luxury homes come in all shapes and sizes, from modern architectural marvels to classically designed estates, with each home reflecting the specific tastes of its owner.
No matter what they look like on the outside, all luxury homes should provide homeowners the ultimate in comfort and convenience, as well as complement their particular lifestyle.
Like the mansions for sale in Atlanta, GA, no luxury home is complete without at least one of these 8 lavish amenities:
High-Tech Smart Home Technology
Today, home technology integration is an important feature in any luxury home Going beyond simple voice-controlled virtual assistants like Amazon Echo and Google Home, luxury homes are equipped with high-tech smart home devices that allow users to remotely control almost every aspect of their home.
For example, thermostats can automatically change room temperatures based on your heat signature or on a set schedule. Lights can be controlled with an app on your smartphone. State-of-the-art security systems that let you know your home is safe wherever you are. You can find smart home technology integrated in almost everything.
Spacious Gourmet Kitchens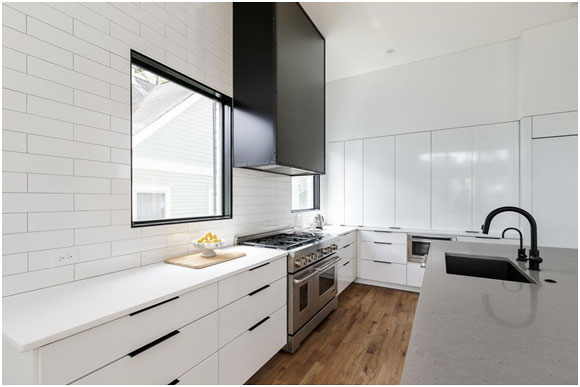 This spacious, light-filled kitchen in a custom estate home for sale in Atlanta is equipped with the latest features
The kitchen is the heart of every home. More than just a place to prepare food, it's a place to entertain guests, share family meals, and chat with friends and neighbors. That is why having a spacious well-designed gourmet kitchen is a must.
Gourmet kitchens have features like commercial-grade kitchen appliances, warming and cooling drawers, a beverage station, and a large kitchen island. They are equipped with an array of creative storage areas or walk-in pantries for added convenience. These kitchens strike the perfect balance between functional and stylish.
Spa Bathrooms
Spa bathrooms aim to provide a world-class spa experience right in your own home. It's a place to relax and feel pampered. Typical features include a rain shower, radiant heated floors, towel warmers, and high-tech toilets. Other bathrooms have a soaking tub or Jacuzzi facing a large window with gorgeous views.
The finishes for spa bathrooms are equally luxurious with marble, quartz, or granite. Some bathrooms are designed with natural and eco-friendly materials incorporated throughout the space to create that spa-like atmosphere.
Expansive Master Closets
Unlike standard closets, master closets found in luxury homes have amenities such as customized vanities, automated lights, full-length mirrors, and comfortable seating. Closet islands are made to store small items like watches, jewelry, and lingerie. Some also have beverage stations for coffee or wine.
These master closets are spacious and easy to modify so they can suit the specific needs of the homeowner. Custom solutions include a dedicated shoe system or automated racks for dresses and suits.
Private Fitness Center
Private fitness centers give homeowners the opportunity to stay fit and healthy without leaving the comfort of their home. Going above and beyond what the typical home gym offers, these private gyms don't just have exercise machines and weights.
They are equipped with wireless speakers, a television, and special equipment that caters to an individual's preferred sport or workouts like an indoor lap pool, dedicated yoga studio, and the like.
Entertainment Areas
An entertainment area can mean different things to different homeowners. Its sole purpose is to give you a place to have fun with friends and family.
In some luxury homes, an entertainment area may consist of a typical media room or home theater. In others, it may be a gaming center filled with classic arcade and video games. For those with more specific tastes, homes can have indoor basketball courts and bowling alleys. There is sure to be a luxury home out there that fits a luxury buyer's home entertainment needs. Or, consider customizing a home to suit your preference.
Seamless Indoor/Outdoor Living
Luxury isn't confined indoors. A home that seamlessly blends indoor and outdoor spaces is a definite draw. Extending the luxurious appointments indoors to outdoor spaces like patios, backyards, decks, or a private garden makes the home even more sumptuous than it already is.
Think of an open concept living room that opens to an outdoor area equipped with an outdoor kitchen, spa, fire pit, pool, and comfortable seating. Or envision spacious balconies and terraces complete with tables and chairs for al fresco dining.
Masterfully Crafted Finishes and High-End Details
The details are everything when it comes to luxury homes. All finishes from the trim to the décor should be of the highest quality. Every detail counts when it comes to the finish of a luxury home.
If you're ready to start your search for luxury homes for sale in Atlanta, GA, call me, Natalie Gregory, at 404.550.5113 or email Natalie(dotted)Gregory(at)Compass(dotted)com.